"Pleasures" of Shopping with a Toddler
[shareaholic app="share_buttons" id="6691858"]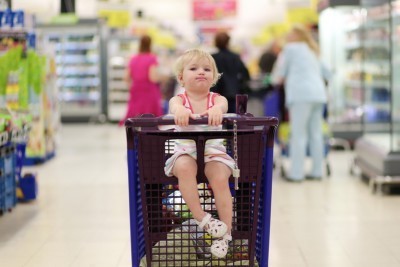 No Sitting Allowed
This is a toddler rule of shopping. There will be no sitting in those awful grocery carts at the store. What if you get the one that looks like a giant plastic car? That might buy you a few minutes, but the novelty wears off quickly. Before you know it your little angel will be squirming and screaming to get down. My son loves to yell "LET ME OUT! LET ME OUT!" through the store while trying to stand up in the seat.  Searching for a new skirt while he does that is so much fun!
 Snacks everywhere
I was determined not to be one of those moms. You know what I'm talking about. As soon as you enter the grocery store, you book it to the cookie aisle and tear open a box before even glancing at your grocery list. It's necessity.  I do it all the time now. I once fed my kid 8 cheese sticks while waiting in line at Publix. It was for my sanity, that's my excuse. It's not just the grocery store; I sneak him goldfish in the department store and pray he doesn't drop his fruit snacks in the shoe store.  You do what you have to. If you're still on the fence about this one, just give it a try.
Public Restrooms
I'm convinced that public restrooms are totally gross. I avoid them whenever possible. When you have a potty training toddler, you never get to avoid them. Immediately upon spying a bathroom my son practically screams to go to the potty. It's not because he really needs to go. It's not even because he's doing very well with the toilet training (he's not). 
It's mostly because he wants to hear the industrial toilet flush.  I don't know why it fascinates him, but apparently listening to the loud woosh of the toilet is so completely amazing that he must lean over the toilet bowl and listen. 
My immediate instinct is to pull him away from the germs spraying into the air (and his face), but that usually leads to him throwing himself onto the floor of the public restroom and screaming.  I have used entire bottles of hand sanitizer trying to make sure he doesn't catch a disease from public restroom toilets and floors. 
Wild Tantrums
I'm not sure why, but entering Target seems to be a secret signal for my son to have a meltdown.  Maybe it's all the red everywhere, sort of like a bull fighting.  My little bull loses his mind every time we go in that place.  He starts screaming and throwing himself around. The tears come rolling down.  If he hasn't started by the time we get a cart, he quickly makes up for it while I'm checking out the $1 section.  Lately, I just avoid Target like the plague.
The Chase
The Chase starts as soon as I surrender and let him out of the cart. The object of the game is to catch him by running around the store while pushing the cart, ducking around large displays, avoiding collisions with other patrons, and diving into clothing racks as needed in order to capture my son before he either injures himself, breaks something expensive, or gets abducted. It's terrifying. It's his most favorite game ever!
Do you have a toddler shopping story to share? I'd love to hear it in the comments.
Written by: Sara Parise