10 Tips For Putting Together The Perfect Nursery
[shareaholic app="share_buttons" id="6691858"]
Follow Us On Facebook:
Categories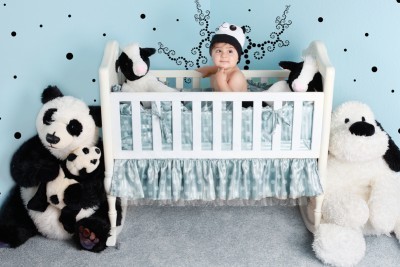 1. Create an inspiration board to keep all of your ideas organized – I opted to use Pinterest. I pinned lots of nurseries that I loved as well as ideas for furniture, storage, and décor. 
2. Start with a theme or color scheme –I found a rag quilt that was aqua, lime, and navy. It ended up being the basis for his entire room. It doesn't matter what direction you go with this, but think about how you'll tie everything together. 
3. Decide on the wall color and flooring – I decided to keep what we already had. The walls are grayish-silver and the carpet is navy. Perfect for a little guy.  
4. Pick your furniture – I chose a crib, dresser, and bookshelf from Ikea as well as a rocking chair. Consider pieces that will grow with your little one. A lot of the cribs that I looked at converted to toddler beds, which is great if you're looking to go that route. 
5. Start with the crib – I ordered a fitted crib sheet, a changing pad cover, and a throw pillow all in a navy herringbone pattern. The crib ends up being the natural focal point in a lot of nurseries. 
6. Choose an accent color – All of the accents I chose for his space were lime – a cool mist humidifier, a handmade stuffed monster, and a lamp. I also picked up a few other odd and ends that I stumbled across. 
7. Fill in the gaps – As an afterthought, I added a galvanized steel shelf that I found at Ikea, a floor pouf, and a few wicker baskets to store things in. The more storage, the better – you're going to need it. Little ones seem to come with a lot of stuff. 
8. What about accessories? I ordered a number of things that matched the overall look and feel of his room – mostly artwork and stuffed animals.  
9. Be creative – I made the little guy a magnet board from a piece of galvanized steel and a picture frame. I even bought magnetic letters and numbers to write notes to him – right now, it says "We love you little man. Baby E is 8 months old." I also found a "little man" plaque at Target and painted it navy. 
10. Get personal – I printed and framed a few pictures for him – one of me pregnant, one of his ultrasound, and one of us with each set of grandparents.  
Whatever you choose, go with it. There's really no wrong way to put together the perfect nursery. This is a room that you and your little one will be spending a lot of time in – make it what you want it to be. Do you have any tips or ideas to add to the list? Share them in the comments.   
Written by: Cristi Wuenschel