Applying Playground Rules to Finding Friends
[shareaholic app="share_buttons" id="6691858"]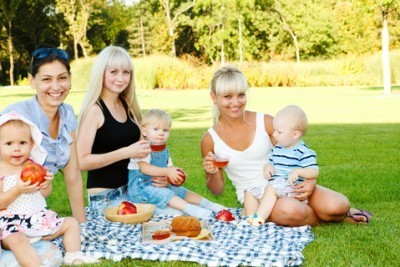 Now that you're an adult, you discover it takes a Herculean effort and a massive coordination of schedules just to take in a movie.  And that's if you can find someone you like to go with you.  And sure, you may have 509 "friends" on Facebook or 392 followers on Twitter, but when the going gets rough, who do you call for help?  
It's time to make friends.  Whether they be neighborhood women or someone you bumped into at the grocery, you need to put yourself out there in order to bond with your friend "soul mate".  Here are a couple of suggestions if you find yourself friendless:
Meetup.  This is a great website for finding like-minded people.  Like cosplay?  There's a group for that.  Like to play euchre?  There's a group for that.  Have a dog and would like to meet other dogs and their people?  There's even a group for that.  Some of the best groups are geared toward mothers – single mothers, mothers of twins, mothers who have had enough and can't take it anymore – they're all in there.   
Join a Gym.  It is so easy to start a conversation in a gym. If you don't know how to use a machine, all you have to do is ask someone.  Simply asking a question can be a great way to jump-start a conversation. Plus, you get the added bonus of getting healthy at the same time!
Volunteer.  Local animal shelters are always recruiting new volunteers.  Or your local hospital could use some help. You could help out with a fundraising drive.  Best reward from volunteering is you give back to your community while you are meeting people who share your passions.  
Check out the local Art Scene.  Artists never tire of hearing how much you like their work.  And typically the same people attend the same shows, so it is easy enough to walk up to someone and say "Didn't I see you at the last ______ show?  Wasn't his portrait of _______ perfection?"  
Join a Sports Team. There are local volleyball teams, soccer teams, softball teams – if it can be played, there's a team for it.  Even if you aren't coordinated, or bruise easily, sports teams are all in good fun.  Plus you'll have stories to revisit when you go out for that after-game beer.  
Evening Classes.  Taking a class is a great way to meet people.  Take a class about something you have always wanted to do – write, learn a new language, brush up your computer skills or underwater basket weaving.  Your local community college is a great place to start.  Take a self-defense class – you're all in there for the same reason.
This is all easier said than done, but it is so worth the effort.   
Written by: Allyson Johns