It's Basketball, Ladies – It Won't Bite
[shareaholic app="share_buttons" id="6691858"]
Follow Us On Facebook:
Categories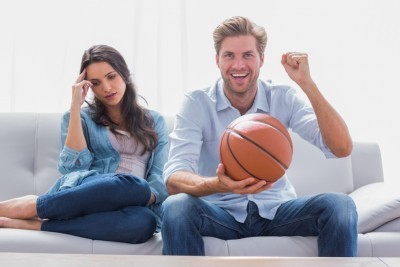 Alley Oop.  No, this is not a famous designer.  This is a maneuver in which one player lobs the ball to one of his teammates, who in turn jumps up, grabs the ball and slam dunks (more on that later) the ball into the basket.  This usually happens when your team is up by 4 points, and the other team decides to show up to the game.  And piss you off.
Big Man.  If you watch any college ball, you will hear the famous announcer, Dick Vitale, say this on repeat.  In a sing-song voice (I personally love Dickie V).  And no, this is not a mob hitman, this is a low post (which I will explain) player, typically taller than most players on the court (Check out the height differential between 7'6" Mamadou N'Diaye of the University of California at Irvine and his teammates) who usually will play the position of center or power forward.  A "Big Man" can usually swat the ball out of the basket without exerting much effort.
Bonus.  This is a good position for your team to be in.  It means that the opposing team has more between 7-9 fouls called on them in a half, your team is given a "bonus" during free throws.  Typically, instead of one free throw, your team is awarded a bonus free throw.
Center.  A center is one of three standard positions for players.  Centers are the tall guys (see Big Man above) and are the ones who are responsible for scoring, rebounding (more on that) and defending their team's basket.
Double Bonus.  Or an even better position for your team.  If the opposing team racks up more than 10 fouls in a half, your team enters double bonus territory, or two extra free throws.
Double Double.  Nope, not a Vegas term.  This is when a player has double digit marks in 2 categories of play.  For example, 12 points and 10 rebounds.
Dunk.  A player scores a "dunk" when the ball goes directly into the basket, using one or both hands.
Fast Break. This is used primarily in the last 5 minutes of the game, to keep the opposing team from scoring.  Players attempt to get the ball to their end of the court, as quickly as humanly possible, scoring as quickly as humanly possible.  Usually after your team steals the ball from the opposing team and scoring before they have time to react.  It's a beautiful thing.
Field Goal.  Basket made from anywhere on the court, not including free throws.
Flagrant Fouls.  Better that the opposing team get hit with these, as a player can be ejected from the game, depending on the severity of the crime. Typically, it's when a player shows their ass on the court (not literally), for no reason other than showing his ass. A Flagrant Foul 1 is excessive or severe contact during a live ball. A Flagrant Foul 2 is extremely excessive or severe unsportsmanlike conduct during a dead ball.  FF1 gives the opposing team an unencumbered free throw, but if a player commits more than one, they're gone.  FF2 automatically gets a player ejected from the game.
Flop.  Or acting like a drama queen.   A player "flops" onto the court in hopes of the opposing player getting fouled.  It's typically blatantly obvious.  And obviously stupid.
Free Throw.  A shot at the basket from the free throw line.  Each free throw equals 1 point, and has been known to win games.
Guard.  A standard position, broken down into two categories – point guards and shooting guards.  Point guards are good ballers with great passing skills, and usually run offense.  Shooting guards, as the name implies, are the best shooters and usually the top scorers on their team.
Jump Shot.  Just as the name implies – shooting a basket while jumping into the air.
Low Post.  The area closest to the basket but outside of the paint (see below).  Low post players are ones who are skilled at making shots from here without a jump shot.
The Paint, or Key.  The free throw lane, or the part of the court, in front of the basket that is painted.
Rebound. It can be a verb – grabbing the ball after a missed field goal attempt, or a noun – the act of grabbing the ball after a missed field goal attempt.
This is a short list, but I hope it helps you to enjoy the game more than you do now.   Go Badgers!!!!
Written by: Allyson Johns